| | |
| --- | --- |
| [MADtv] Real **********ing Talk: Healthcare (#906) | |
01/03/2005, 12:47 PM
Where's My Money!?

Join Date: Sep 2004

Location: UK

Posts: 1,400
Real **********ing Talk: Healthcare (#906)
---
Dollar Bill (DB) Montgomery – Aries Spears
Woogie Jones Johnson – Tommy Davidson
Miss Eunetta Cleveland – Danielle Gaither
Bill Clinton – Will Sasso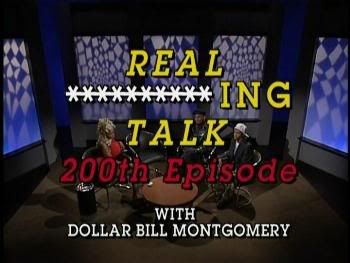 DB:
Welcome to the big 200th Anniversary show
Now my first guest holds a Masters Degree in assology
From Slanky Johnson's institute of love, Woogie Jones Johnson,
Word up Woog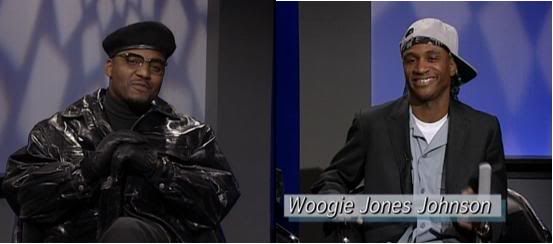 (Woogie holding squeegee)
Woogie:
All I know is that I'm excited man. Got me a new job
DB:
What you washin' windows?
Woogie:
Hell no, stealin' squeegees
DB:
My next guest is my Producer which basically means she pays for all this Sh*t
Please welcome Miss Eunetta Cleveland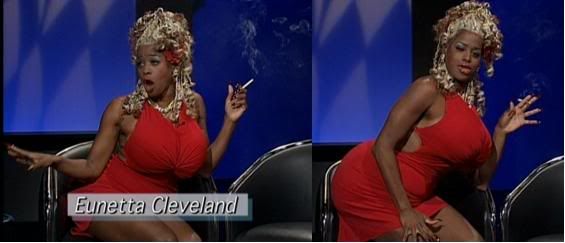 Eunetta:
Thank you DB, I'm proud to pay for all this sh** I'm also proud to be the owner of my own business,
Nail and Bail,
Where you can get your nails done and your man sprung ha, ha, ha
DB:
Damn girl your ass so big, when you sit down you actually get taller!
Now my last guest hasn't been seen in awhile
The brothers up in Harlem call him homie but I call him Mr. President,
Please welcome the unimpeachable Bill Clinton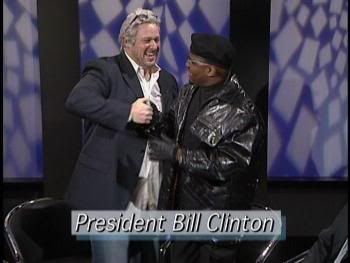 (DB stands up to greet Bill Clinton)
Bill:
WORD UP MOTHER FU**ERS!
(they shake hands, hug and both take a seat)
Eunetta:
Oooooooooh, I Love this Man!
(Eunetta jumps on Bill and hugs him)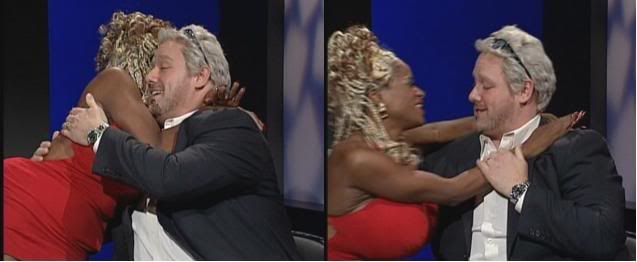 Bill:
Well ha, well this man loves you too Baby (hugging her back)
DB:
Hey man ain't no ho' you're gonna hit!
Bill:
Well let me see now…….Hilary
(looks straight at the camera)
Ha ha ha ha Welcome to T, ha, ha, ha, do you like that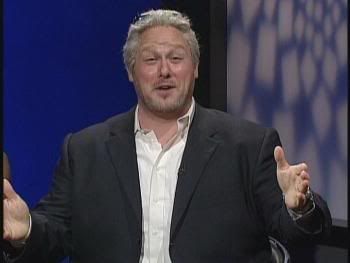 Hey I'm on the TV ha, ha, ha, ha.
Woogie:
uh, huh, huh, I know you, you're the guy on the $20 bill.
DB:
Yeah, this might be a good time to go to a clip we shot back in the 70s it's a classic, check it out:
(cuts to a clip showing Woogie and DB in the 70s)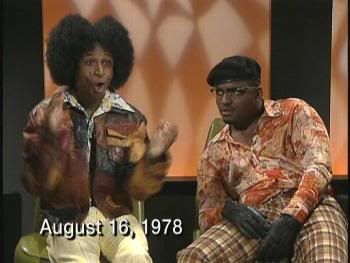 Woogie:
Woooooooooo
DB:
Woogie you know you's a dumb mother****er
(cuts back to the current show)
I tell ya boy that was one sweet as moment
Bill:
DB in honour of this Momentous occasion I'd like to present you with the William Jefferson Clinton Medal of Excellence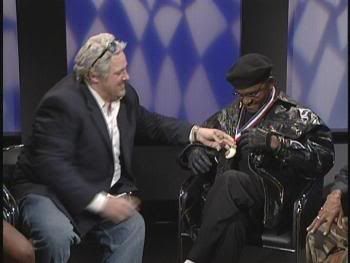 DB:
Alright
Woggie:
Bling Bling
Eunetta:
oooooooohhh
Bill:
Now you're gonna wanna refrigerate that, it's got chocolate on the inside of it,
I know how much you people like your sweet stuff
Especially you huh sugar?

Eunetta:
Ooooooh, I like to wash me down the abba sama with some dramboie now, ha ha, heh heh.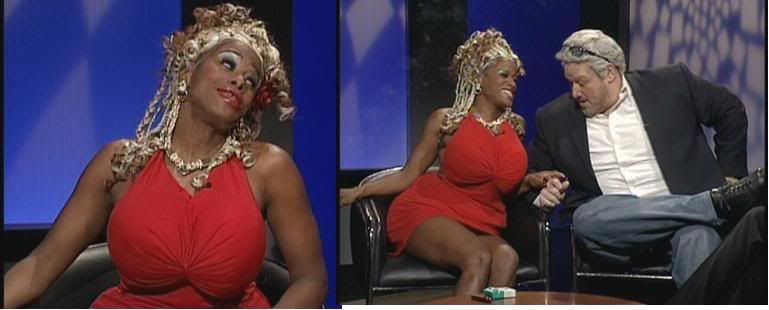 Bill:
You are as sweet as a watermelon pie, brrrrrrr
Eunetta:
oooooooh
DB:
Hey, hold up President pig feet, what the F*** is watermelon pie!?
Who the hell is writing your speeches Amos and Andy?
Eunetta:
Hey hey hey hey Leave the man alone DB, he hang out in the Hood
he been busted by the Government
He cheat on his wife
Hell the man pratically black
DB:
The man makes 2 million dollars a year and can get a cab at night
He ain't hardly black!
Now let's move on to our first topic, Health Care in the Hood,
our people are suffering,
high blood pressure, low blood pressure, no blood pressure
Woogie:
And too many damn babies,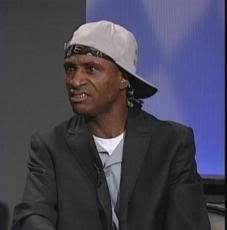 bitch told me she was wearing a condom
Eunetta:
Now I wish I had me a baby

DB:
Then you need to get with Woogie here, the boy craps his pants,
sleeps all day and can't get enough of the nipple.
Now let's move on to our topic we're talking about here, Heathcare
Woogie:
See I don't think there's anything wrong with the Healthcare in the black community.
That's right I was at the Free Clinic today and the Doctor gave me the good news
He said, my test results came back, what, Positive, what positive

(Woogie tries to give Bill a High 5, but Bill doesn't want to touch him)
DB:
Let's roll to a clip
(cuts to a Clip of Woogie and DB in the 80s)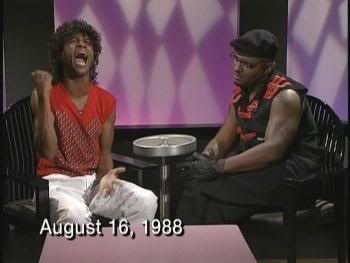 Woggie:
HA HA!!! WOOOOOO!
DB:
Woogie you's a dumb Mother****er
(cuts back to the current show)
DB:
Well that's our uh special 200th Anniversary show,
please keep us in mind for your Emmy consideration, just vote for,
Shout it out President cracker
Bill:
REAL MOTH******ING!?
DB:
Talk
Bill:
TALK!
(Bill and Eunetta Hug again and she sits on his knee.
Woogie is not impressed by this.)

Cue the Real **********ing Talk Title Screen

__________________

Posting Rules

You may not post new threads

You may not post replies

You may not post attachments

You may not edit your posts

---

HTML code is Off

---
All times are GMT -6. The time now is
1:06 AM
.