| | |
| --- | --- |
| [MADtv] Paul Timberman's Workshop: Christmas Tree (#411) | |
12/22/2004, 4:31 AM
Where's My Money!?

Join Date: Sep 2004

Location: UK

Posts: 1,400
Paul Timberman's Workshop: Christmas Tree (#411)
---
Paul Timberman - Will Sasso
Voice - Pat Kilbane

Paul:
Hi I'm Paul Timberman of Paul Timberman's Workshop, you know I Love Christmas and I'd like to think the number One symbol of peace and love and giving and sharing around the world is the Christmas tree, which is what we're working on today.
(walks over to the tree)
Now the first thing you wanna do when you bring a tree in from the outdoors is shape it, now I got my handy hand clipper around here somewhere, oh here it is.
(bends down to pick up the clippers and pokes his eye on the tree pines)
Ooww, now that smarts heh, alright now most these branches are no bigger than your fingers, but you gotta press real hard cause they're real strong.
(Cuts his thumb off, blood sprays)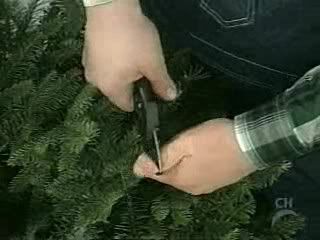 alright, I think you get the idea.
(wraps a cloth around the amputation)
Now, uhh, tell you what Monty can you uh, pop that into a little plastic bag, you put it in the fridge, I'll pick it up on the way to the ER. Thank you.
Alright then this here's our tree, it's a Noble Fern, Noble fern's know as a sweet sultry mistress of the woods and this is one here's a fine classy lady now as you can see, ow
(grabs the tree and pokes his eye on the pines again)
As you can see the boys at the log kinda cut it uneven there
You're gonna want a nice straight edge on the bottom of your tree so it'll stand up straight. Now this lady's too big to fit on my table saw so I'll have to put it her on the straint to even it out
(cut to Paul holding a chainsaw tryin to start it up)
C'mon now, C'MON!
THERE YOU GO, ALRIGHT!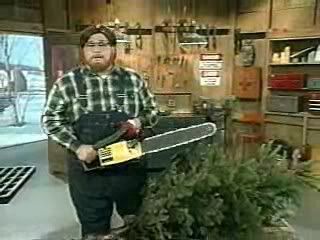 I GET A LOT OF CONSTANT LETTERS FROM THE FOLKS OUT THERE WHO INJURE THERE EYES DUE TO THE WOODCHIPS,
YOU GOTTA WEAR YOUR SAFETY GOGGLES AT ALL TIMES
I CAN'T STRESS THAT ENOUGH, NOW HERE WE GO
(begins cutting the tree with the chainsaw)
NOW YOU SEE WHY THESE GOGGLES ARE SO IMPORTANT, YOU GOTTA KEEP YOUR EYES ON THE WOOD AT ALL TIMES,
(looks at the camera)
CAN'T BE LOOKING AROUND
(Blood splashes all over Paul's goggles,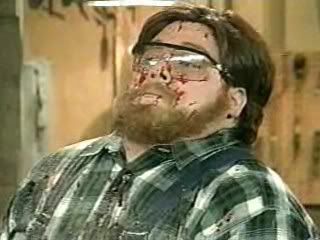 he looks down to see he's cut his leg off)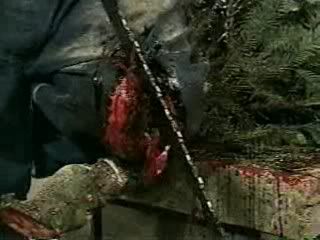 Alright, uh, cut to commercial
(cuts to a pre recorded Paul Timberman's workshop)
Hi I'm Paul Timberman of Paul Timberman's Workshop
You know people always ask me:
"What's the best way to keep your tree mounted at Christmas?"
And I tell them, there's nothing better than, The Santa Jaws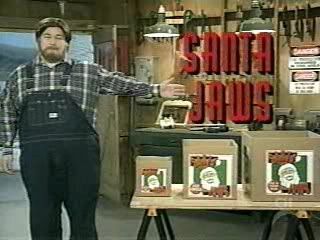 It's the new modern way to keep you tree in place
Works kinda like a big old bear trap and it comes in 3 different sizes:
Santa Jr, Chris Cringle and Big ol' Saint Nick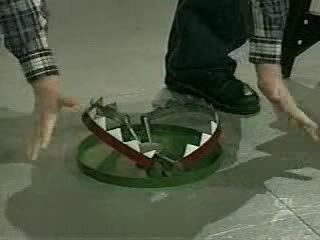 Santa Jaws, the best thing under your tree this Christmas or my name ain't Paul Timberman
(grabs the tree to put it into the Santa Jaws but steps on the the santa jaws and almost cries)
The makers of Santa Jaws would like to wish you and yours a safe and happy holiday
(Paul stumbles and puts his hand on the Santa Jr,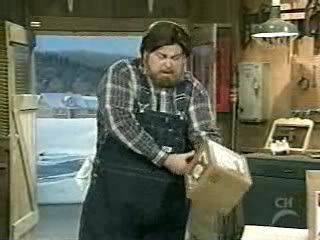 struggles trying to get it off and falls to the ground)

(Cut back to the current Paul Timberman's workshop with Paul spraying blood from is wounded hand all over the tree, he looks terrible, there's blood everywhere, he slurrs his words)
Well that's about it for Paul Timberman's Workshop this week, and what better way to Merry Christmas with a beautiful tree like this one, kinda makes all the hard work worthwhile.
And just imagine the looks on the kids faces when they come down the steps on Christmas morning and see this.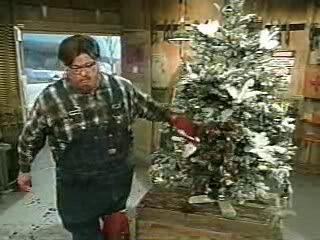 I feel kinda woozy
(he faints falling on the tree and knocking it over)
(cut to other scenes of Paul drilling into his thumb, dropping a cannister on his foot, blood spraying on his face and falling on a cabinet
Voice:
Paul Timberman's Workshop is brought to you by Skaiser Permanente.
Skaiser Permanente because accidents happen

__________________

---
Last edited by Viper; 04/01/2005 at

2:56 PM

.
Posting Rules

You may not post new threads

You may not post replies

You may not post attachments

You may not edit your posts

---

HTML code is Off

---
All times are GMT -6. The time now is
12:17 PM
.