05/17/2005, 2:43 PM
Where's My Money!?

Join Date: Sep 2004

Location: UK

Posts: 1,400
Family Values Tour 2001 (#708)
---
Kenny Rogers - Will Sasso
Bryan McFayden - Himself

*Sketch opens at the Family Values Tour with the Fans cheering*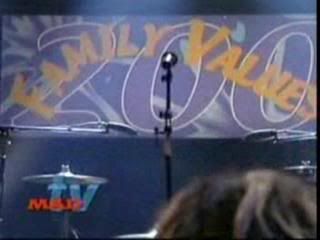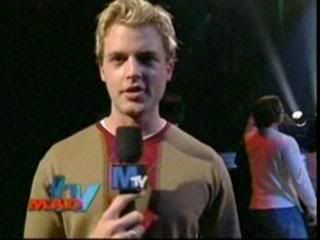 Bryan:
Hey what's up everybody Bryan McFayden coming at you live from the Family Values Tour,
it's been a great time Linkin Park just finished up their set, put up an awesome performance
Now ripping up the stage is a, is an Act everyone's been talking about, they're called Chum Chugger
Kenny:
*to the Moshers*
Get outta my way
Bryan:
And now joining me is the front man from Chum Chugger Himself, Mr. Kenny Rogers
Kenny:
Hey! What's up! How's it going everybody OOOOh I'm Famous! Ha ha ha ha ha ha!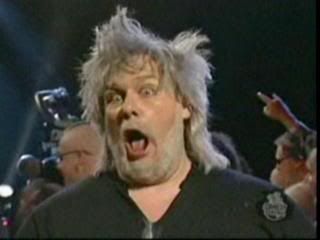 Bryan:
Now Kenny you're 61 years old
Kenny:
Hey F*** you Carson
Bryan:
Ah, um, um I'm Bryan McFayden
Kenny:
I don't give a Mc-Damn who you are!
*guzzles some Jack Daniels*
Bryan:
All I meant was, is, do you feel like you still have something to say to young people?
Kenny:
Oh Shoot! I got plenty to say to young people,
Young People be less picky about who you screw cause it all feels the same in the dark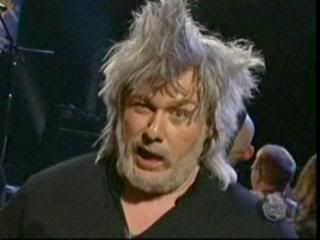 You know…..I even had sex with,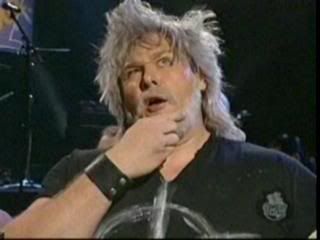 whoa, uh oh, oh Look at that!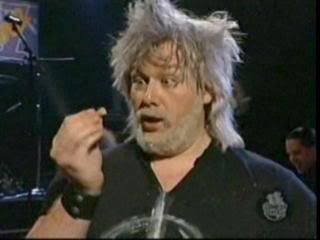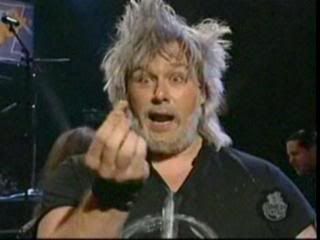 *Kenny pulls something out of his beard*
Hey! It's Beard Chicken! You want some Regis?
Bryan:
No, no thanks
Kenny:
Alright more for me!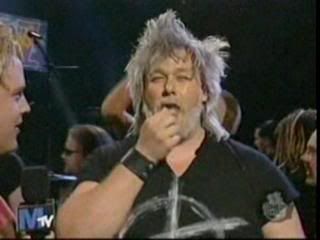 *puts it in his mouth*
.....urgh!
*spits it on one of the crowd*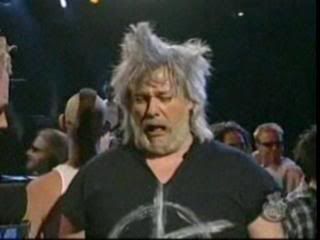 Ah, that wasn't what I thought
Bryan:
Alright, now Kenny, why did you decide to come on the Family Values Tour?
Kenny:
Because I like Family Values Jessica, ya know, I'm a Father and raisin' kids takes a lot of patience,
you know my,
*a mosher bumps into Kenny*
HEY WATCH IT! YOU'RE ON MY FLOORSHAMS YA LITTLE BASTARD!*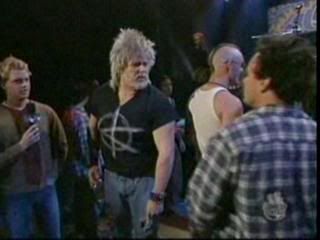 *The Mosher pushes Kenny to the ground*
Kenny: Alright that's it! I'm gonna shove you up my Ass!
*Smashes a Jack Daniels bottle over the mosher's head and then turns on the crowd with the broken bottle
he then throws the remaining piece of bottle on the ground
& points to the mosher who's lying on the ground trying to get up*
Ha ha ha ha Hey! Ya gotta know when to fold 'em Bitch!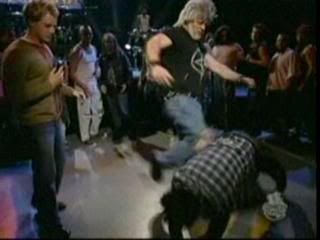 *Kenny kicks the mosher in the balls and spits on him*
Bryan:
Alright Kenny, now it's time for your set
Kenny:
Hold on a second there N*Sync I gotta pee first
*Pulls a serious face and pees himself*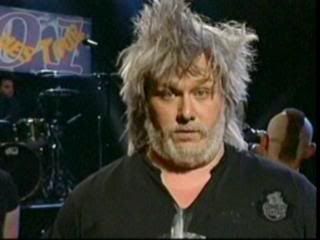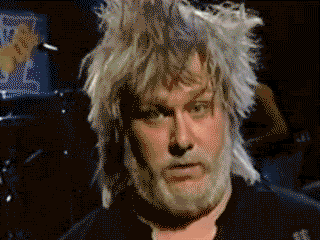 Thanks Bud!
*Kenny pushes through the crowd*
Outta my way Gen X!
*he climbs on stage*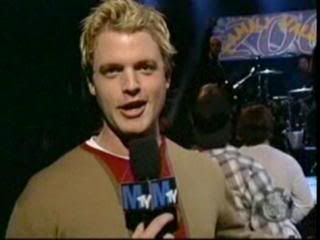 Bryan:
Alright let's go ahead and check out Kenny's new Band, they're called Chum Chugger
and they're hear to play an old favorite, it's called Lady:
*Kenny begins strumming the Lady tune on his Electric Guitar*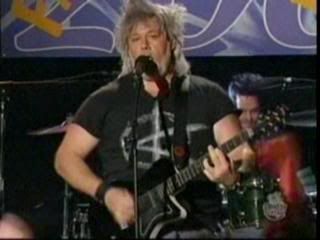 *The Band Kicks in*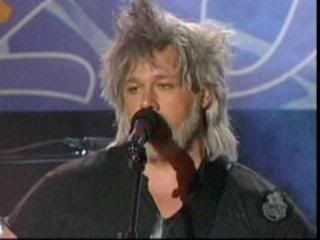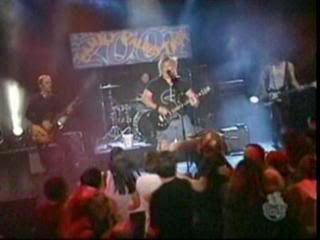 Kenny:
LADY! I'M YOUR KNIGHT IN SHINGING ARMOR AND I LOVE YOU!
YOU HAVE MADE WHAT I AM AND...I AM YOURS
YOU HAVE GONE...YOU HAVE MADE ME SUCH A FOOL
I'M SO LOST IN YOUR LOVE
AND OH...OH YES I ALWAYS WANT YOU NEAR ME
WON'T YOU BELIEVE IN MY SONG
LADY!...YOUR LOVE'S THE ONLY LOVE I NEED
AND BESIDE ME...IS WHERE I WANT YOU TO BE!
YOU'RE THE LOVE OF MY LIFE
YOU'RE MY LADY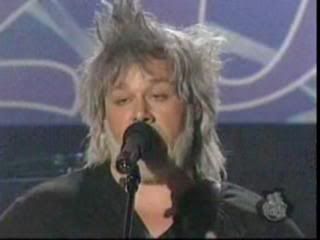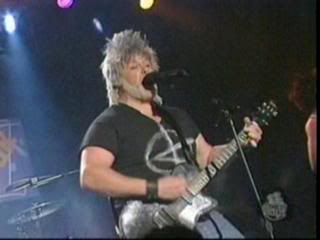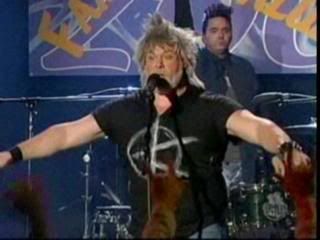 SEX CHICKEN AND ROCK & ROLL!! CATCH ME GENERATION X!!!
*Kenny stage dives, but no one catches him*
Bryan:
Oh yeah that was Awesome, rockin' up here at the Family Values Tour,
I'm Bryan McFayden sending it back to MTV in New York
Kenny:
WAY TO GO! NICE CATCH YA DUMB BASTARDS! I THINK I BROKE MY GIZZARD!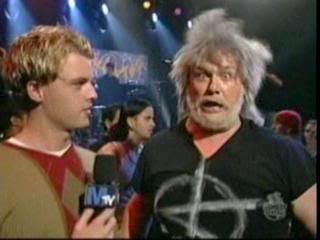 *Kenny runs back onstage*
1, 2, 3, 4!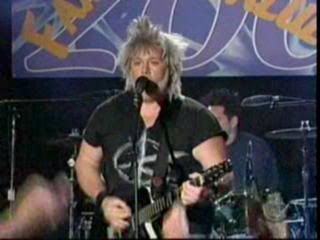 *Kenny Continues Rockin' out with his Band*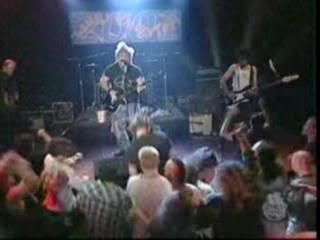 *Cue Opening Credits*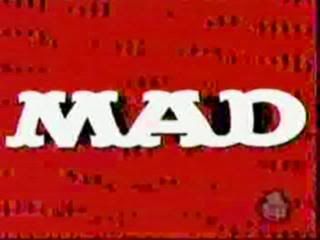 A Huge Thanks to MOdonna for providing me with this Awesome Sketch

__________________

Posting Rules

You may not post new threads

You may not post replies

You may not post attachments

You may not edit your posts

---

HTML code is Off

---
All times are GMT -6. The time now is
12:46 AM
.